Praise for
Hell: A Guide

"Certainly the best book on hell ever written. Profound, provocative, and deeply sobering, this remarkable book will help anyone who has ever wondered if hell is real. For heaven's sake—read it!"


– DR. DICK EASTMAN
international president of Every Home for Christ and founding member and president of America's National Prayer Committee

"They say the devil's greatest trick is convincing us that he doesn't exist. The same could be said for hell, which is most often seen today as a cartoonish land inhabited by comical figures with pitchforks and tails. But as Anthony DeStefano convincingly demonstrates in his page-turning new book, the reality of hell could not be more certain or more awful. Read this gripping and at times terrifying book to learn what Scripture says about hell—and discover the hope that exists for all to avoid it."




– ERIC METAXAS
New York Times bestselling author and host of the nationally syndicated Eric Metaxas Radio Show

"Powerful, inspirational, and frighteningly realistic, this book explains in the clearest terms possible what the Bible has to say about hell. A must-read for all Christians."


– MIKE HUCKABEE
former governor of Arkansas and host of Huckabee


Praise for
The Seed Who Was
Afraid To Be Planted

"As a lifelong lover of the earth and an avid gardener, I think The Seed Who Was Afraid to be Planted is both brilliant and simple! It contains a whole lot of wisdom—and not just for children!"


– DELILAH
National Syndicated Radio Host, Author

"Fear is a natural part of growing up, but it can be crippling and paralyzing if we don't deal with it correctly. This little book contains a tremendous amount of truth about what happens when we confront frightening trials with courage. It shows children that God has the power to transform even the worst suffering into something beautiful and even glorious. What an incredibly valuable lesson for children—and adults—to learn."


– DR. BEN CARSON
United States Secretary of Housing and Urban Development

"Jesus told several famous parables about seeds. He said that unless a seed falls to the ground and dies, it can never bear fruit. Anthony DeStefano has used this profound truth as the basis of his beautifully illustrated new book, The Seed Who Was Afraid to be Planted, an inspiring story about the transformative power of God's grace to help us overcome fear and achieve truly great things in life."


– MIKE HUCKABEE
Former Governor of Arkansas; Host of "Huckabee"

"Anthony DeStefano touches the hearts of readers of all ages once again with this tender story of fruitfulness triumphing over fear."

– KATHY BRANZELL
President, National Day of Prayer Task Force

"The beautiful colors in this book draw both the child and parent in, and the story touches upon something everyone experiences, fear of the unknown. The book spoke to my little boy's heart and I'm sure it will speak to the hearts of many."

– JEANETTE DE MELO
Editor in Chief, National Catholic Register
Praise for
Inside the Atheist Mind
"I'm thrilled that someone has finally decided to take atheism head on. I applaud DeStefano's dedication and carefully researched work. This book is funny, honest, raw, and will probably offend quite a few people, but I believe that everyone—no matter what beliefs they hold to—should take the time to dig in for themselves. You won't regret it."
—Glenn Beck, political commentator, author, and media personality
"Inside the Atheist Mind is a powerful retort to today's aggressive proponents of atheism, revealing how illogical and intellectually bankrupt their arguments truly are. Anthony DeStefano uses irony, sarcasm, and above all, an abundance of well-researched facts to debunk the philosophy of modern atheists—which is so often hollow and hypocritical. This book will help equip Christians and all people of faith to confidently defend themselves in the face of increasingly hostile attacks from unbelievers."
—Former Senator Rick Santorum (R-PA)
"Some children behave so very, very badly that reasoning with them is to cast one's pearls before swine. Anthony DeStefano understands this and happily spares not the rod in giving these wayward little beasties -- known as the "New Atheists" -- the sound and proper hiding they so richly deserve. I brazenly defy anyone who thinks his atheism reasonable to read this wise and witty book."
— Eric Metaxas, #1 New York Times Bestselling author, host of the nationally syndicated Eric Metaxas Show
"Anthony DeStefano's new book is a powerful response to the 'new atheist' movement that is sweeping the globe. It will help people of all faiths to stand up to the aggressive attacks of these fervent unbelievers."
—Cardinal Renato Martino, president emeritus of the Pontifical Council for Justice and Peace and former permanent observer of the Holy See to the United Nations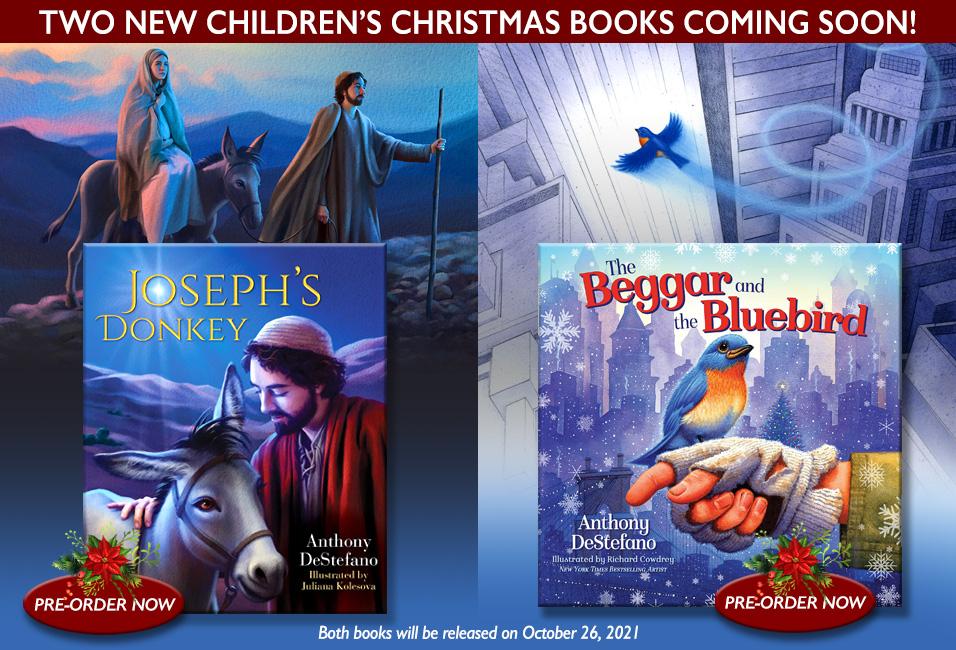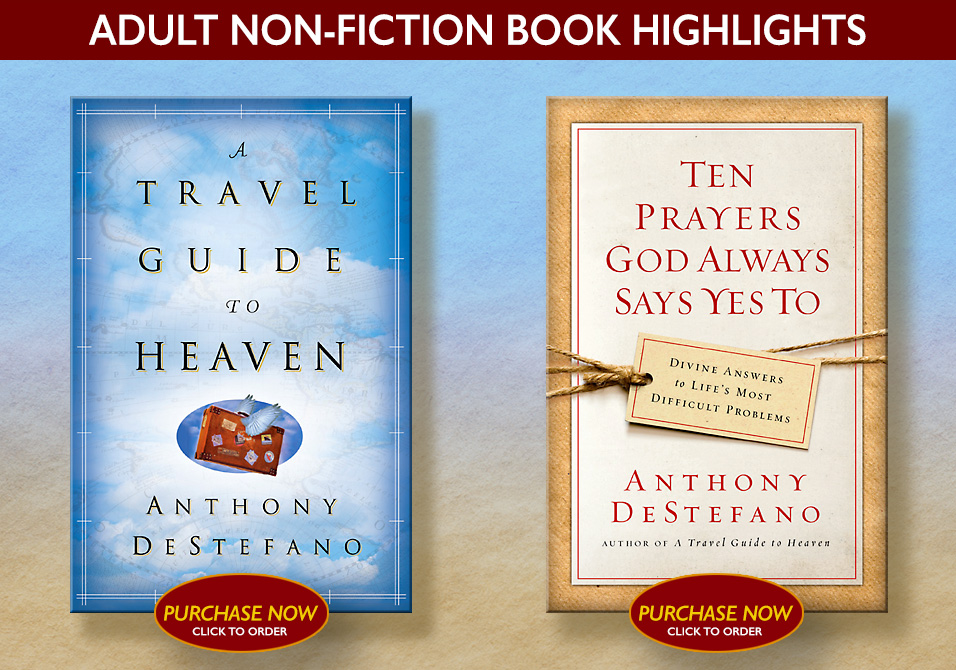 THE SEED WHO WAS AFRAID TO BE PLANTED –– FEATURED VIDEOS
| | |
| --- | --- |
| Official Trailer | A Message from Anthony DeStefano |
| | |



DeStefano finds a fresh take on the events that lead to Easter. Using a small scriptural reference to the unridden donkey that Jesus rides in triumph into Jerusalem, DeStefano imagines a transformative relationship between a small, weak donkey and a figure who gives him strength and asks him to have faith. The text's rhymes ("No matter how much he tried or he cried/ This was a donkey no one could ride") make for easy read-aloud. Cowdrey's illustrations focus on the donkey, conveying the development from initial lethargy to the donkey's energetic and confident strength. It's a welcome change from Easter chicks and bunnies. Ages 5–up.

– Publishers Weekly






"Anthony DeStefano brings to life "the hidden world God has created for us," a world that surrounds us but is difficult for even the most convinced Christian to get in touch with, much less the seeker or non-believer. And he does this in a more vivid and realistic way than I would have thought possible. Angels, devils, and grace? DeStefano makes them almost visible. This is a wonderful, compelling book, completely consistent with traditional Christian teaching and common sense – and very, very readable."

– Fred Barnes
Executive Editor, Weekly Standard




"I may not always agree with Anthony DeStefano, but there is no doubt he is a highly intelligent and witty writer; and assuming the existence of an invisible world, he has produced a very interesting and thought-provoking book about spirituality."

– Vincent Bugliosi, Author of Divinity of Doubt: The God Question, as well as five NY Times Bestsellers, including Helter Skelter




"Sadly, many people today are so materialistic in their thinking that they've forgotton that the most important things in life are unseen and spiritual. Love, honor, compassion, forgiveness, hope–All of these are invisible. Finally, there is a book that makes the whole invisible spiritual world come to life in the most extraordinary and vivid way. Anthony DeStefano's words will inspire even the most hardened and materialistic cynic to begin exploring a richer, fuller life based on faith in a God who is so good."

– Delilah, Nationally Syndicated Radio Host




"Have you thought about Heaven lately? Wonder what it's like? How you can get there? A Travel Guide to Heaven explains it all. And while it may be your final destination, it will be the best trip you ever took!"

– Regis Philbin




"This Little Prayer of Mine is the springboard for helping children to establish that type of lifelong relationship with our heavenly Father."

– Bernice A. King, Daughter of Martin Luther King, Jr. and Coretta Scott King




"Why are some of our prayers answered while some are not? In a simple, straighforward style, Anthony DeStefano takes on the mysteries of prayer. He casts a wide net to appeal to all Christians everywhere without compromising the gospel one iota. Read Ten Prayers God Always Says Yes To... This book could revolutionize your prayer life."

– Pastor Jack Hayford
President, International Church of the Foursquare Gospel
& Founding Pastor, The Church on the Way




"Anthony DeStefano has once again drawn his readers into the mystery of God's love and invited us to reflect more deeply on our relationship with Him. In a simple yet profound way, Ten PRayers God Always Says Yes To, offers insights, and indeed a practical wisdom, that will resonate with anyone who has ever struggled with personal prayer. I recommend this book to any and all who are searching for a fresh perspective on the meaning and value of a life of prayer, and, ultimately, for a more fulsome encounter with the Living God."

– Cardinal Renato Martino
President, Pontifical Council for Justice and Peace, Vatican City, Rome




"Anthony's book shows that every human being is a miracle; that we are not just our bodies, but rather, we are soul and spirit, and are therefore capable of achieving miraculous things during this adventure called life."

– Tony Robbins




"Move over, Dr. Phil! Anthony DeStefano's advice on how to turn your problem-filled life into something to celebrate is bare-bones, no-holds barred, no bull and spot-on brilliant."


– Kathie Lee Gifford
Co-Host, NBC's Today show




"I think most of us want to go to heaven, though not necessarily right now. But we all need to get ready for the trip—and Anthony DeStefano's book is like a Fodor's Guide for just that purpose. It's a wonderful road map for people who want to be happy in this life, and at the same time prepare for ultimate happiness in the life to come."

– Mike Huckabee
Former Governor of Arkansas
Host of Huckabee, on the Fox News Channel and The Mike Huckabee Show, on Cumulus Media Network




"In his new book, A Travel Guide to Life: Transforming Yourself from Head to Soul, Anthony DeStefano provides a clear and concise road map to a fulfilled and happy life, and makes the compelling case that we must be God-centered in order to experience true joy. While the book provides solid self-help techniques, Anthony helps show us that the way to happiness is to know, love, and serve God in this life, so that we might experience everlasting happiness with Him in Heaven."

– Cardinal Timothy Dolan
Archbishop of New York

LITERARY MANAGEMENT

Domestic and foreign publishers who are interested in obtaining information about the licensing and publication of Anthony's works may contact
Global Lion Intellectual Property Management, Inc., at:

Peter Miller


CEO, Global Lion Intellectual Property Management, Inc.


MEDIA

Print, radio and television media interested in having Anthony on their programs may contact Jerry Horn at

(540) 220-0095

jghorn@mac.com

Jerry Horn




Media Assistant

Author Anthony DeStefano with some of the characters
from his bestselling children's books.