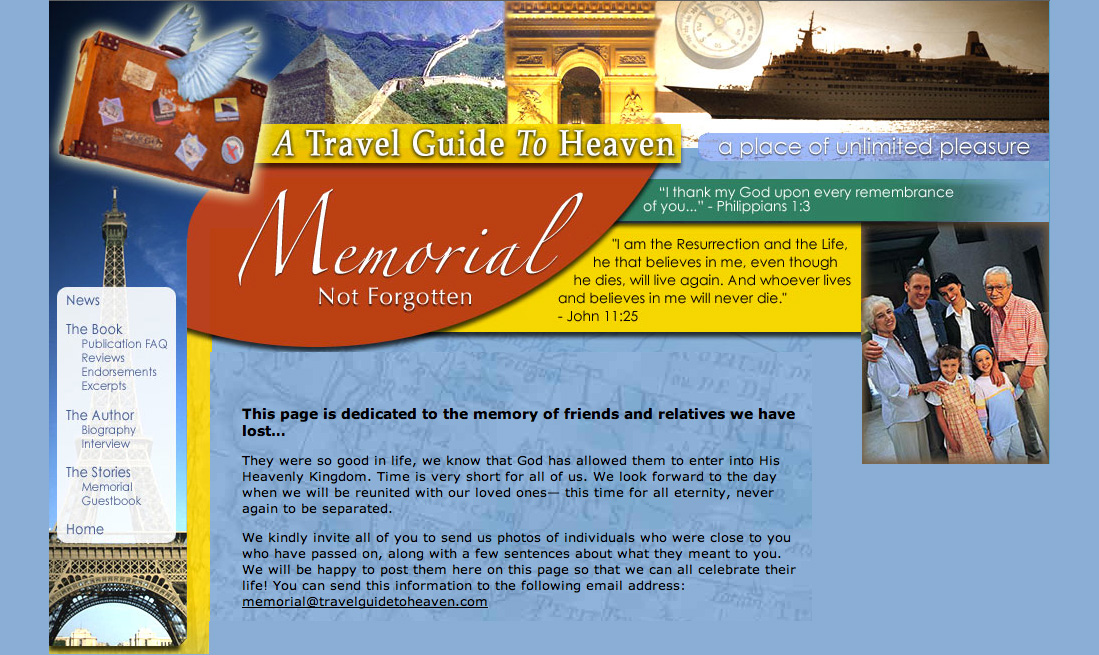 Tribute to Jerry Horn's Mom


Our Mother was a very special lady. Everyone who knew her was impacted by her and will always remember her. To those who asked, she was a source of wisdom, experience, and good advice, since she generally knew just what she thought about things.

To those who knew her well, she was a wonderful, caring person with a heart bigger than her beloved Texas. But to her husband and to her family who loved her most, she was the one who never stopped believing in us and never tired of giving herself for us.

We owe a wealth of love and gratitude to a fine lady, and we will have two examiners to answer for our lives when we finally join her in Heaven-not just God the righteous judge, but our wonderful Mother who still watches us, still believes in us, and who would love to see us succeed as she did. For our own sake, for God's sake, and for Mother's sake, let's not disappoint her!

Tribute to Erwin Lee Horn


A few thoughts about my dad Erwin Lee Horn--We've hear it said that there is great rejoicing in Heaven when one sinner repents. Then imagine the rejoicing that takes place when Erwin Lee Horn walks through those Pearly Gates…not just because he was lost and now is found but because Heaven has to be a lot more fun with him there! Picture with me for a moment this scene. Saint Peter opens the Lamb's Book of Life and finds Erwin's name inscribed there. He is beckoned in and enters hesitantly, wondering what comes next.

He walks along a stone pathway though a shady glen and sees several young boys fishing at a little pond. In no time at all we can envision him baiting a sweet lad's hook, teaching him a better way to cast, and teaching him a better way to cast, and watching with satisfaction the huge, fighting trout that is the prize for his efforts.

The voice of God breaks though…"Well done, though good and faithful servant enters now into the joy of your Lord. Come; sit up here closer to me. I'm anxious to hear the desires of your heart for your loved ones on Earth until the time they come here to join us." Nell (his wife) squeezes his hand and can't resist a little pinch. 'Not so hard, Birdtail,' Erwin teases. "We have an eternity to enjoy, and you can pinch me all you want when we get home. Right now let's just drink deeply of the wonderful love of God in this beautiful place. We miss you Dad! Can't wait to see you again.

-- Jerry Horn

Tribute to Grandpa Ott


Ardent servant of the Most High God,
Faithful husband to the bride of his youth,
Dedicated father of sixteen children,
Leader in his community in support of family values,
Communicator via word and deed of God's purposes in our lives,
Joseph John Ott II is awaiting our arrival in Heaven,
Finding along with the apostle John that there is "no greater joy
Than to hear that my children walk in truth." III John v. 4
To remember my dad is to be brought lovingly back to the basics.

-- Bonnie Horn

Pasquale DeStefano

My Dad, Pasquale DeStefano, touched the lives of many people. Not the least of all, his family. He was a social worker for more than 40 years, and had a way of listening that would immediately put anyone at ease. My Dad was a kind, gentle, loving man who adored his family above all else and always had great stories to tell about the "old days" growing up in Brooklyn with his many brothers and sisters. He never got to write a book, like he always dreamed of, but his stories live on in my younger brother and myself.

My father was a hero in the truest sense of the word. As he battled his liver cancer disease, he promised me-and all his doctors-he would be able to walk me down the aisle when I got married. On my wedding day, he was a source of quiet strength and dignity. He was very, very sick, but he walked me down the aisle of the church and gave me away. It was one of his greatest gifts to me. My dad passed away at home with his family four days later. God took him from this earth much sooner than I would have liked Him to, but I know my Dad is always with me. And he is looking down from Heaven now.

-Karin DeStefano Fey

A Tribute to Albert Charles De Blase

I was four years old when Albert Charles (named for both grandfathers) De Blase was born. My parent's brought him home and said, "This is your little brother. You have to take care of him". And I did. When he was five we learned that he had a sight problem that was degenerative and my little brother became legally blind. My parents said, "You have to take care of him". And I did. My brother became a successful psychotherapist and took care of many people. But, it was always my job to take care of him.

In June of 2000 God took that job from me. God now takes care of my brother. Reading "A Travel Guide To Heaven" has provided me with the comfort on believing that my brother is back in God's hands. He has his sight, is with his mother and favorite dog, Randy Boy, and watching us with love. I know that he knows how much I always loved him and still do.

-- Kathy Knott

A Tribute to Mary

I am sending the last school picture of my daughter Mary. She was a second grader who lived her life to the fullest. She loved God and sang in the church choir, played bells at church, and had just finished memorizing the Ten Commandments for her Sunday School teacher. On May 3, 2003, she was playing in her front yard with her cousin and two younger brothers when she collapsed. To this date we do not know why or what exactly caused her death. The doctors think she may have died from a brain cyst or a heart arrhythmia. It remains a mystery.

I have read numerous books on grief since her sudden death. I was at the bookstore Friday night and I prayed that God would put my hands on just the right book to speak to my heart. He did just that by putting A Travel Guide to Heaven in my hands and heart. I have read this book over the last two days and want to say that it has spoken to my heart and soul. I miss my daughter more that words can say, but I can say that this book offers a small piece of comfort in the midst of the pain. Thank you for writing such a beautiful book. You have forever touch me.

God Bless.
Barbara Almendinger-Butt

A Tribute to Lindsey Alexander

I wanted to write to tell you that I walked into a local bookstore around Oct 10 and walked straight to where your book was and for some reason picked the only copy right up and got interested in it. I purchased it. Later I saw that it was just printed in Sept, 2003. This had to be divine intervention. Her nature was one of positive, enlightened joy in many of the things you write about in your book, even though she had Downs Syndrome and Congestive Heart Failure her whole life.

My daugher had just died Sept 28, 2003. The book has been of considerable comfort to me. I am actually underlining certain passages which seem to have been written for her because I'm going to hand the book over to my wife to read as soon as I'm done.

They did an article for my daughter in the local paper. Why I am not sure but we cooperated nonetheless and were quite grateful for the tribute.

Her name is Lindsey Alexander and she was 16 years old and carried my heart with her.

-- Jim Alexander

A Tribute to Eddie

April 3, 1999 Eddie was killed in a car accident coming home from fishing. We would have celebrated 25 years of marriage.

He was a man of few words. The church service before he died he suddenly got up and gave his testimony. It was emotional and it moved the whole church. In a way he preached his own funeral. He loved Jesus with all his heart and soul. He loved his family, his church, his pastor and his fellow travelers! I know where he is right now. And he is eagerly awaiting our arrival.

Your book is amazing! What an encouragement it has been to me. Thank you..

Kathy Gibson

Tribute to Dr. Rhonda Sue Lewis

This is my new friend, Dr. Rhonda Sue Lewis, professor of education at the University of Arkansas at Little Rock. On October 2, 2003, she died in my arms while lying in the street. She had been struck in the crosswalk by a speeding truck which ran a red light. She was engaged to be married on Oct. 10, 2003 to Gary Gerrity. We came upon the accident only seconds after it happened. My husband Steve said, "Stop, stop, there's someone lying in the street." I immediately stopped the car, put on the blinkers, and ran over to her. She appeared to be unconcious and I could not see any active bleeding, but I could hear her breathing. I sat down beside her, stroked her hair, and spoke to her, hoping to comfort her in case she could hear me. I told her the ambulance was on the way. I felt so helpless, so lost; I leaned down and carefully kissed her on the cheek. She then passed away. The ambulance crew arrived, but were unable to save her. Rhonda was 46 and I am 47. I now consider her my new friend, and a special sister waiting for me in Heaven. How grateful Steve and I are that God used us to comfort and care for her in her last moments. God bless her and her grieving friends and family.

Tribute to Aaron Thomas Pickering

Aaron is my son who loved life and loved people. He was finishing up schooling to become a police officer when he was robbed and murdered at the store he was managing. This was July 3,1999 only two weeks after he moved to the big city to wait to be accepted to the police academy. Aaron was only 23 and never had the chance to be truly in love, get married and have a family.. my heart still grieves for him. He will always be in my heart.

There are moments in life when you miss someone so much that you just want to pick them from your dreams and hug them for real.

Tribute to Cathy and Bill

This is a picture of my niece and nephew who were together on 11/11/01 when their car crashed into a tree on the Long Island Expressway NY exit 48 east bound side. Brother and sister who lived for each other were best friends, and everyone in the family were so proud of them. Billy was my Godson whom I feel his presence every Sunday in Church. I look over at the pew we sat in together when I so proudly represented him at his confirmation, and Cathy who everyone knew how talented a dancer she was -- if anyone was going to make it to Broadway she was.

I had seen your book advertised in my local Newsday newspaper, read the review and knew my sister should read this book, just to hopefully bring a smile to her face, for which I can say it did. Thank you for writing such a nice book. Cathy and Billy were my sister's only children. If you can please post their pictures on your web site I would so much appreciate it. Thank you for writing such a wonderful book.

Your Truly,

Ralph Mignolia

Tribute to Alariona Danielle Smith

In Loving Memory of Alariona Danielle Smith
June 16, 2003. Daughter of Misti Cohorn and Cornelius Smith
Mommy and Daddy love you and We Miss you
You are Mommy's angel and Daddy's baby girl

The day that I found out I was pregnant with my angel, it brought joy to my life,

We were so happy to call you our baby,

Then On June 16, 2003 God needed the best angel that he could find and he needed you, and it tore mommy and daddy up.

Alariona, Mommy and daddy want you to know that we love you and we miss you so much, and you are Mommie's angel and Daddy's baby girl.

Daddy was so happy, daddy picked out your name Alariona, and nana picked out your middle name Danielle, such a classy name for a classy angel.

Mommy and Daddy miss you so much , There is not a day that we do not think about you and miss you, and We love you with all of hearts, and all I say is that I can not wait to meet you in the sky.

This is a poem that we placed in Alariona's Memorial that we gave out at her funeral, It meant alot as soon as I read it, She came into the world when I was just 17 weeks pregnant with her , and she came out feet first, and I felt her little foot before I knew she was coming, I had no labor pain or anything, she just dropped and Her little foot came out , and then I delivered her at the hospital, It was so hard going through delivery knowing that you baby is going to not be alive, and after I delivered her is when I had labor pains, but we were looking for something to place in her memorial and the hospital gave us all sorts of books and as soon as I opened the first book this is what it said, and it was so perfect,

How softly you came into my world,
Almost silently,
But what a imprint your footprints
have left upon my heart!